Last update: 04/2016
Orders may be delayed in shipping, in case of holidays: 1st January, 6th January, Easter, Easter Monday, 25th April, 1st May, 2nd June, 15th August, 1st November, 8th December, 25th December, December 26th.
Time of data processing
All orders placed through Anna Virgili's Online Shop are subjected to a control which takes 48 working hours. Once approved, the order is shipped and the customer is sent a confirmation email accompanied by the link to connect to the Courier's website where the shipment is tracked.
The delivery times of the order depend on the type of shipment chosen:
Italy
Standard deliveries: j + 4 working days: FREE
Express deliveries: j + 1, 2 working days: PAID: € 10
Worldwide
Deliveries: j + 3/5 days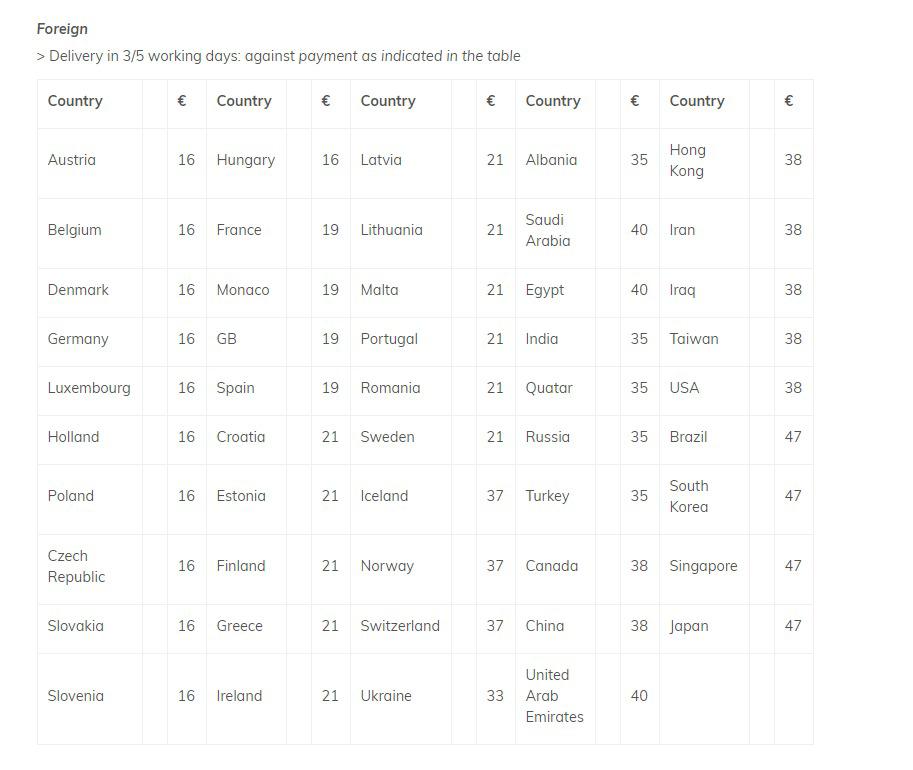 International orders
Shipments from Anna Virgili's Online Shop are limited to the countries listed above. The country of the shipping address and the country of the billing address must be the same. The same product displayed in different countries may have price differences.
Order tracking
Once the order is taken over by our courier, you will receive an email containing the details of the order and the tracking number of the Courier for monitoring its shipment in real time. It is always possible to access an order archive in the My Anna Virgili section and through the order number provided in the confirmation e-mail it is possible to locate the order and view all the relative information. It is also possible to contact the Customer Service of the Anna Virgili Online Shop, by e-mail at orders@annavirgili.com or by telephone at 0735- 383648. The Customer Service of the Anna Virgili Online Shop is at your disposal from Monday to Friday from 10:00 to 13:00 and from 15:00 to 17:00 (Italian time).
Delivery of purchases
For the delivery of your online purchases, you can choose the shipping address that is most convenient for you: at home, at the office or at another person.
Attention, it is not possible to choose a PO box as a shipping address, nor to indicate a desired date or time for delivery. For receipt, the signature on the shipping document is required. In the event that the Courier does not find anyone at the indicated shipping address, it will attempt delivery again, leaving a notification after each unsuccessful attempt. The number of attempts made may vary depending on the destination country. In case of non-delivery, the package is returned to the warehouse of the Anna Virgili Online Shop. Once an order has been confirmed, it is not possible to change the delivery address.